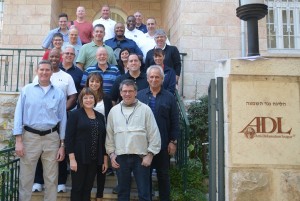 (Boston, MA) November 18, 2014 – A delegation of Massachusetts law enforcement executives met with their counterparts in the Israel national police last week during a weeklong ADL counterterrorism seminar in Israel.
The training curriculum included high-level briefings on the operational response to terrorism, border and airport security, maintaining safety and access to holy sites, the role of advanced technology in policing, strategies to balance security with the free flow of commerce and the psychological impact of terror. The group met with the Israel National Police, Palestinian Police, security experts, intelligence analysts, and journalists.
ADL Regional Director Robert Trestan issued the following statement:
It is critical that Massachusetts police departments be able to equally prevent and respond to crime while protecting us from the threat of terrorism. The Israel national police have been on the frontline combating terror for decades and are able to share their firsthand experience in keeping the public safe despite multiple threats. The seminar is opportunity to enhance local law enforcements preparedness to prevent and respond to terrorism.
"Having an opportunity to learn about the complex issues surrounding the history, culture, and religion of Israel has been an invaluable experience. Being able to travel and work alongside not only the Israeli Police, but the Palestinian Authority Police allowed us to see first-hand the cooperation that goes into ensuring security for everyone," said  Everett Police Chief and President of the Massachusetts Major City Chief Association, Steven Mazzie. "The ADL has provided a very valuable service to law enforcement by providing this training opportunity and we are thankful to them."
The training program, now in its fifth year, is designed to help American law enforcement executives gain hands on experience about the impact terrorism has on civil society and allow them to interact directly with their Israeli and Palestinian police peers. The trip also included opportunities to tour some of Israel's most significant archaeological and religious sites, and to learn about Israeli society.
The group consisted of Massachusetts law enforcement professionals from Boston, Bedford, Chelsea, Everett, Framingham, Gloucester, Marblehead, Newton, Wellesley, Massachusetts State Police, MBTA Police, United States Marshalls Service, United States Secret Service, and Middlesex County Sheriff's Office.
Funding for the trip is graciously provided by the Gal Foundation.
###
The Anti-Defamation League, founded in 1913, is the world's leading organization fighting anti-Semitism and hate through programs and services that counteract hatred, prejudice and bigotry.
Read more on ADL's Mission to Israel from:
The Jewish Advocate
Wicked Local Bedford
Chelsea, MA PD
The Jewish Journal
Wicked Local Marblehead