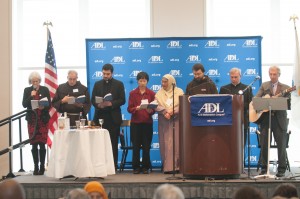 Boston, MA, March 26th 2014 … The Anti-Defamation League (ADL) New England Region held its 7th annual Nation of Immigrants Community Seder this past Sunday, March 23rd at the UMass Boston Campus Center. This model Seder is designed to draw attention to the universal Passover themes of hope, liberation and freedom as they apply to all immigrant communities. The community Seder included not only the story of the Jewish people, but also celebrated diverse stories and cultures of the immigrant and ethnic communities that make up our nation.
ADL Regional Director Robert Trestan issued the following statement:
The Seder is symbolic of the struggle for freedom and allows people from across Boston to take a break from their daily lives to reflect on their journey to America. Discrimination and bigotry, particularly against immigrants, continues to permeate society and the Seder is a reminder that we must join together to overcome all forms of hate.

We are honored to convene people from across Boston's communities to celebrate and acknowledge that each of us deserves a life that is free of hate and violence.
The Passover Seder commemorates the Exodus of the Jewish people from slavery in Egypt.  This message of hope, liberation and freedom is universal.
The naming of this Seder has special meaning. Back in 1958, then-Senator John F. Kennedy wrote an essay titled, "A Nation of Immigrants". The essay, which was published by ADL, highlighted the stories of immigrants and their contributions to our nation. In 2008, ADL republished a 50th Anniversary edition of the essay, which included an introduction by the late Senator Ted Kennedy.
Immigration, implicating civil rights issues and issues of discrimination, is a key priority for ADL. The Seder is one of many steps that ADL is taking to establish alliances with other immigrant and ethnic communities, to create partnerships in combating bigotry, discrimination, and hate.
The Anti-Defamation League, founded in 1913, is the world's leading organization fighting anti-Semitism through programs and services that counteract hatred, prejudice and bigotry.
Photos from the event are available on Facebook! Like us and Share!