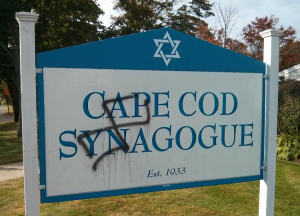 (Boston, MA) October 4, 2013 – The Anti-Defamation League (ADL) New England Region today condemned the desecration of a sign for the Cape Cod Synagogue in Hyannis, Massachusetts.  Barnstable police are currently looking for the person(s) responsible for spray painting a swastika on the sign. It is believed that the vandalism occurred sometime late Thursday night or early this Friday morning.  Swastika vandalism was also discovered on two businesses on Yarmouth Road and rest area buildings between exits 6 and 7 on the Mid-Cape Highway.
ADL Regional Director Robert Trestan issued the following statement:
This attack on the Cape Cod Synagogue and community is a disturbing reminder that hatred against Jews remains strong. Attacks on places of worship are intended to intimidate community members and it is therefore critical to remain united in opposing all forms of hate and bigotry.

We commend Barnstable Police Department for promptly launching an investigation and are confident that the perpetrators will be apprehended.
Any persons with information about this incident are encouraged to contact the Barnstable Police Department at (508) 775-0387.
###
The Anti-Defamation League, founded in 1913, is the world's leading organization fighting anti-Semitism and hate through programs and services that counteract hatred, prejudice and bigotry.
Read further coverage of this story from: