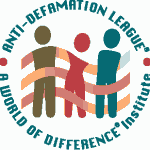 A WORLD OF DIFFERENCE Campaign was founded in Boston in 1985 as a grassroots initiative to increase public awareness of prejudice and discrimination and to mobilize residents to challenge all forms of bigotry in their homes, schools, workplaces and communities.   Since its inception, A WORLD OF DIFFERENCE® Institute has expanded to 26 cities in the United States and 11 countries overseas and has provided anti-bias and diversity education training programs to more than 450,000 educators and impacted over 36 million students.
Mission
The mission of A WORLD OF DIFFERENCE® Institute is to empower people to recognize and address personal and institutional prejudice and discrimination, and to actively promote prejudice-free, inclusive schools and communities in which individual differences are respected and valued.
Programs
The Peer Training Program is a year-round program that trains middle and high school youth to actively promote inter-group dialogue, understanding and respect.
The Summer Institute is designed to provide middle and high school educators with the skills and strategies to implement and coordinate A WORLD OF DIFFERENCE® Institute's Peer Training Program in their schools.
The Todd G. Patkin Urban Education Outreach Initiative empowers students in urban communities to develop their leadership potential and serve as catalysts for positive social change in their schools.
Youth Congress is an annual program that brings together more than 1,000 middle and high school students and their teachers to participate in student-led workshops on issues of bias and diversity. Read about the 2013 Youth Congress, here!
The annual National Youth Leadership Mission brings together ten New England high school juniors with more than 100 student delegates from across the United States to attend an intensive Holocaust education and leadership conference in Washington, DC.
For more information, please contact Phil Fogelman
Director, A WORLD OF DIFFERENCE® Institute 
Anti-Defamation League, New England
617-406-6340 or PFogelman@adl.org

Find out more information about A WORLD OF DIFFERENCE® Institute
A WORLD OF DIFFERENCE® Institute Education and Training Programs
A WORLD OF DIFFERENCE® Institute Special Initiatives
Miller Early Childhood Initiative of A WORLD OF DIFFERENCE® Institute